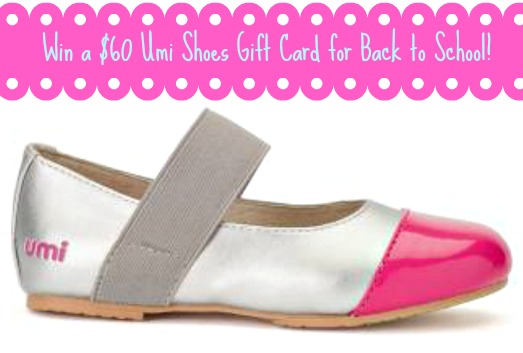 Picture Source: Must Have Mom Blog
Who doesn't love durable cute shoes? I do and I love the styles Umi comes up with for children's shoes, I really like that they also seem durable and sturdy.
Once upon a time, I thought I could just get "any" shoes for my son since he would end up outgrowing and destroying them in no time... but oh boy was I wrong! While yes he outgrew shoes like there was no tomorrow for a while, it's slowing down now and I found he had much better balance and control when first learning how to walk, jump and run if he had "good" comfy shoes on.
I haven't tried Umi yet, but I've tried some of their competition and those are awesome :) I am sure Umi is too! So here's a chance to win a gift card at
Must Have Mom
blog. Good Luck!
http://musthavemom.com/2013/08/back-to-school-with-umi-childrens-shoes-quality-shoes-for-growing-feet-review-60-gift-card-giveaway.html
Ends 9/9/13 - US only